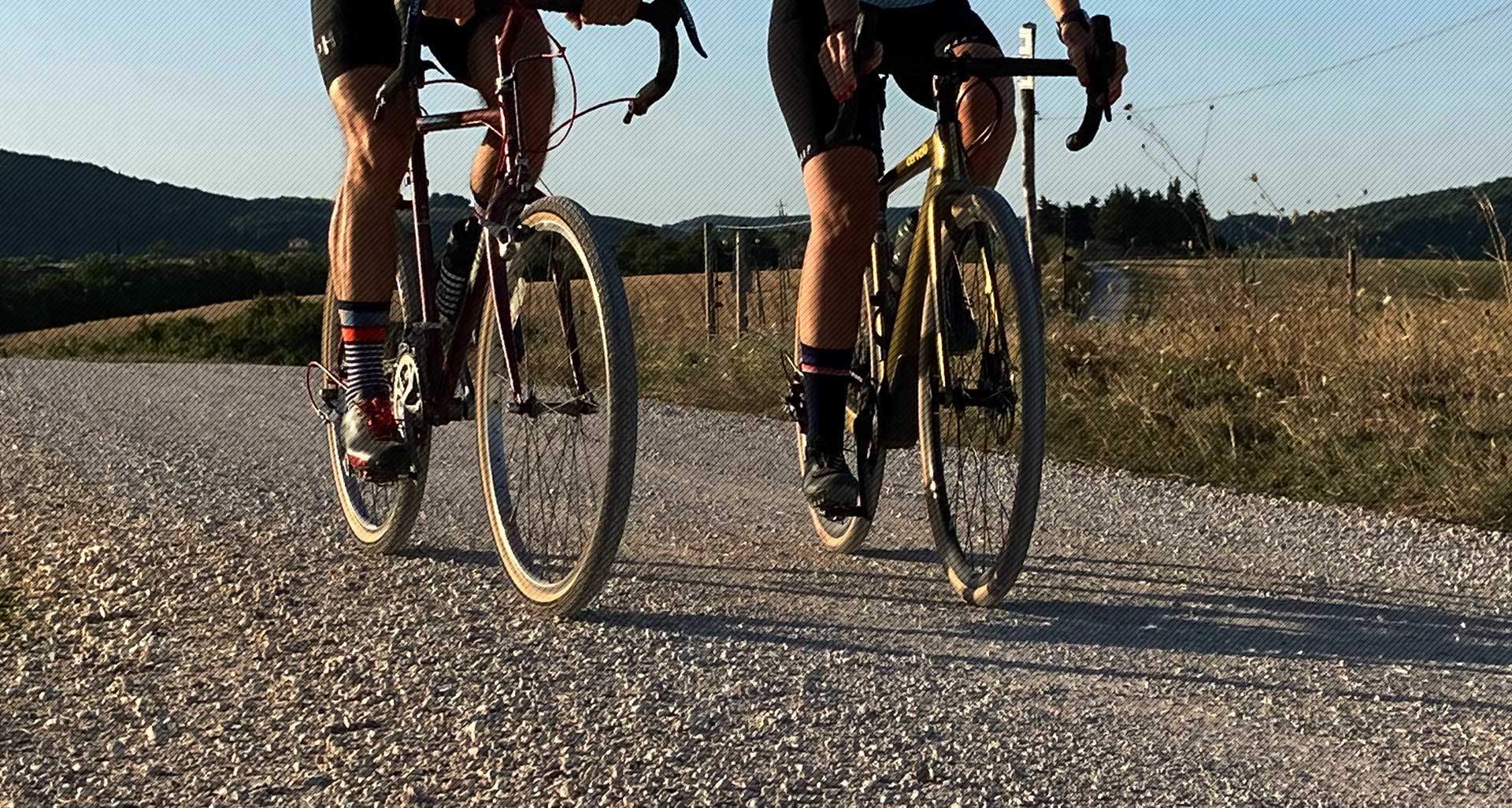 UKGRAVELBIKE.CLUB
SOCIAL RIDES, SPORTIFS & GRAVEL FUN

Dunoon Dirt Dash
28 September 2019

-

29 September 2019

£80
UK Cycling Legends team up to bring a new gravel bikepacking event to Dunoon on Scotland's Adventure Coast in September
Charlie Hobbs, former Bikemonger and founder of the Dorset Gravel Dash, and Markus Stitz, mastermind behind Bikepacking Scotland and singlespeed round the world cyclist, have teamed up with Dunoon Presents and Wild About Argyll to create a brand new overnight bikepacking event in Dunoon on Scotland's Adventure Coast. Entries for the event open on Monday 8 July at 8pm on www.dirtdash.cc/dunoon or https://www.entrycentral.com/dunoondirtdash.
Part of the Summit to Sea Outdoor Festival on the weekend of 28 & 29 September 2019, which also features downhill legends Steve Peat and Greg Minnaar, the new event will send 150 riders on a scenic 81 mile (131km) course including singletrack, gravel paths, forestry roads, public roads, cycle paths and an old coffin road.
Both organisers have a great track record in the events and outdoor industry. Between the two Charlie and Markus scooped three awards in the 2015 Bikepacking.com Awards for Best New Route, Best New Ride and Big Trip.
Similar to the Dorset Gravel Dash, which has run successfully for six years, the event is a non-timed, self-supported reliability trial with overnight camping. The £80 entry fee covers the GPX file for navigation, a tasty evening meal from Winston Churchill Venison at a scenic campsite, as well as a tub of Happy Bottom Bumbutter and a hip flask. The route is suitable for gravel and mountain bikes.
The event kicks off with a pre-ride party on Friday 27 September with a social get together at Pucks Rest at 6pm. Riders will start at the Queen's Hall, next to the historic Dunoon Pier, on Saturday at 9am. The finish line will be at Pucks Rest on Victoria Parade, where a large outdoor area will be available for post ride drinks.
The route features a small section of the Wild About Argyll Trail, which has been a popular destination for gravel bikes since its launch in January 2018. Markus Stitz, who designed both the Wild About Argyll Trail and the new route for the event, comments: 'The Dunoon Dirt Dash will be a very sociable experience in one of my favourite parts of Scotland. Argyll, and particularly the Cowal Peninsula, offers so much fantastic scenery off the beaten track. I have designed a route which will feature a lot of that in a weekend experience. Bikepacking for me is about making connections with like minded people and enjoy the amazing wild scenery Scotland has to offer, and this event is the perfect way to experience that.'
The organisers encourage riders to take public transport to the event. Dunoon is well connected with two regular ferry connections and train services to and from Glasgow Central. For participants arriving by car, free parking is available in town. A special 5% discount is offered for all riders at Pucks Rest when they use 'DIRTDASH' when booking rooms online.
More information about the event can be found at www.dirtdash.cc, on Facebook https://www.facebook.com/dirtdashcc, Twitter https://twitter.com/dirtdashcc and Instagram https://www.instagram.com/dirtdash_cc/.
About Dirt Dash Ltd
Dirt Dash Ltd is a new venture from Markus Stitz and Charlie Hobbs. Markus Stitz is the founder of Bikepacking Scotland and has designed a number of popular bikepacking trails in Scotland, which all have received great feedback. He is a well-known figure in the UK and international cycling scene and the first person to circumnavigate the world on a singlespeed bike. Charlie Hobbs is the founder of the Dorset Gravel Dash, which is the inspiration for the Dirt Dash events. The Gravel Dash has been running successfully for 6 years now and has attracted more than 250 gravel riders in 2019. Charlie also successfully ran 'Charlie the Bikemonger' from 2003 – 2019 and has a wide network of contacts in the cycling world. www.dirtdash.cc
About Dunoon Presents
The Dunoon BID (Business Improvement District) is driven and funded by private sector businesses. It operates in a closely defined geographic area within which businesses work together and invest collectively, in this case to re position Dunoon as an outdoor centre of excellence. A BID is not a substitute for central or local government services but it is a way additional funding is raised by businesses who decide how to invest, to strengthen the local business economy. The activities and strategy the Dunoon BID is focussing on are event management, marketing, branding and promotion of the town. http://www.dunoonpresents.co.uk/
About Wild About Argyll
Argyll and the Isles Tourism Co-operative Ltd (AITC) is the strategic Destination Management Organisation for Argyll & The Isles on the West Coast of Scotland. AITC was formed in 2012 as a cooperative with its membership being the local marketing and sectoral groups – representing in the region of 1200 business interests. AITC is supported by VisitScotland, Argyll and Bute Council, Highlands and Islands Enterprise, Scottish Natural Heritage and Forestry Commission Scotland, Calmac Ferries, Scotrail, Loganair, Enterprise rent-a-car and West Coast Motors. AITC works at a local and national level promoting Argyll & the Isles as a must visit destination. www.wildaboutargyll.co.uk
DO YOU HAVE A GRAVEL EVENT, THAT YOU WISH TO PUBLISH ON OUR CALENDAR?
SEND YOUR FULL EVENT REPORT (PDF/DOC)WITH PHOTOS TO: