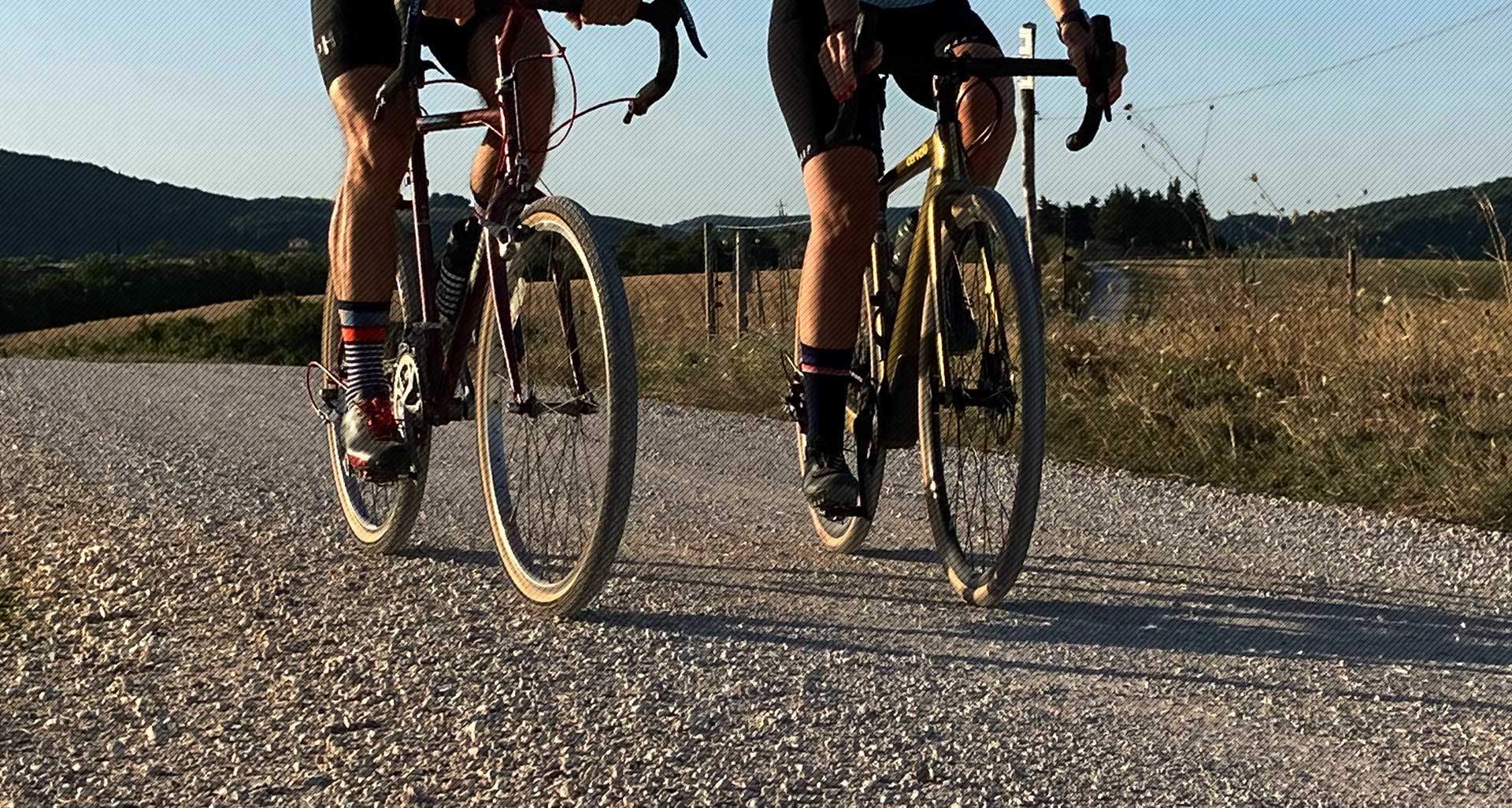 UKGRAVELBIKE.CLUB
SOCIAL RIDES, SPORTIFS & GRAVEL FUN

2023: LONDON-PARIS
July 20

-

July 23

£1900
"The bomb for Tour de France junkies born without the right genes." Editor, Ride Magazine, SA
The LONDON-PARIS is an official Tour de France event.
Cycle fully supported on closed roads arriving the day before the Tour de France finish. Or take the path less travelled, and ride to Paris off road on our new gravel adventure.
Then, relish a once in a lifetime experience for any Tour de France fan, with the option to ride the closed course ahead of the pros.
Starting at the Palace of Versailles, you'll ride the final 30km section through central Paris, accompanied by an official Tour de France race escort, before completing a lap of the Champs-Élysées with finish line photo. And the icing on the cake … you can then watch the peloton charge around the iconic cobbles with an open bar and front row seating.
00
Wed 19 July 2023. Sign-on
Sign On takes place at Imber Court Sports Club, Ember Lane, Hampton Court, KT8 0BT. Accomodation is not included on the Wednesday night.
14:00 – 17:00: Sign on
15:45 – 16:30: Rider briefing, Gravel
16:45 – 17:30: Rider briefing, Road
01 
Thu 20 July 2023. Stage 1
Prepare for a sunrise start as we depart Hampton Court for the coast.
Both road and gravel routes cross The Channel today so it's full steam ahead as we roll through quintessential English countryside to the sea. 
02
 Fri 21 July 2023. Stage 2
Wake up to a continental hotel breakfast before you hit the road (or gravel) for your first day riding in France. 
With no ferries to catch there's less pressure on the timings today, but with a days riding already in your legs it's still a tough day in the saddle.
03 
Sat 22 July 2023. Stage 3
The morning may feel long, but as the excitement builds there's no more iconic finish line than the foot of the Eiffel Tower where you'll celebrate with your new LONDON-PARIS buddies.
Road and gravel riders stay in the same 4* Parisian hotel and join forces for the Finishers Celebration.
04
Sun 23 July 2023. TdF
Watch the Tour de France peloton race the iconic laps of the Champs-Elysees with the option of upgrading to VIP finish line hospitality and exclusive "money can't buy" Tour de France experiences.
You'll be in the heart of the action at the pro teams hotel so a game of spot the World Tour rider is always fun over breakfast the next morning.
04
Mon 24 July 2023. Return
A leisurely breakfast playing "spot the World Tour rider" before heading home. Entry includes a Eurostar and coach package returning from Gare du Nord to the start venue at Imber Court.
If you are not returning to the UK after the event we can transport your bike box to Paris for you instead if required
DO YOU HAVE A GRAVEL EVENT, THAT YOU WISH TO PUBLISH ON OUR CALENDAR?
SEND YOUR FULL EVENT REPORT (PDF/DOC)WITH PHOTOS TO: