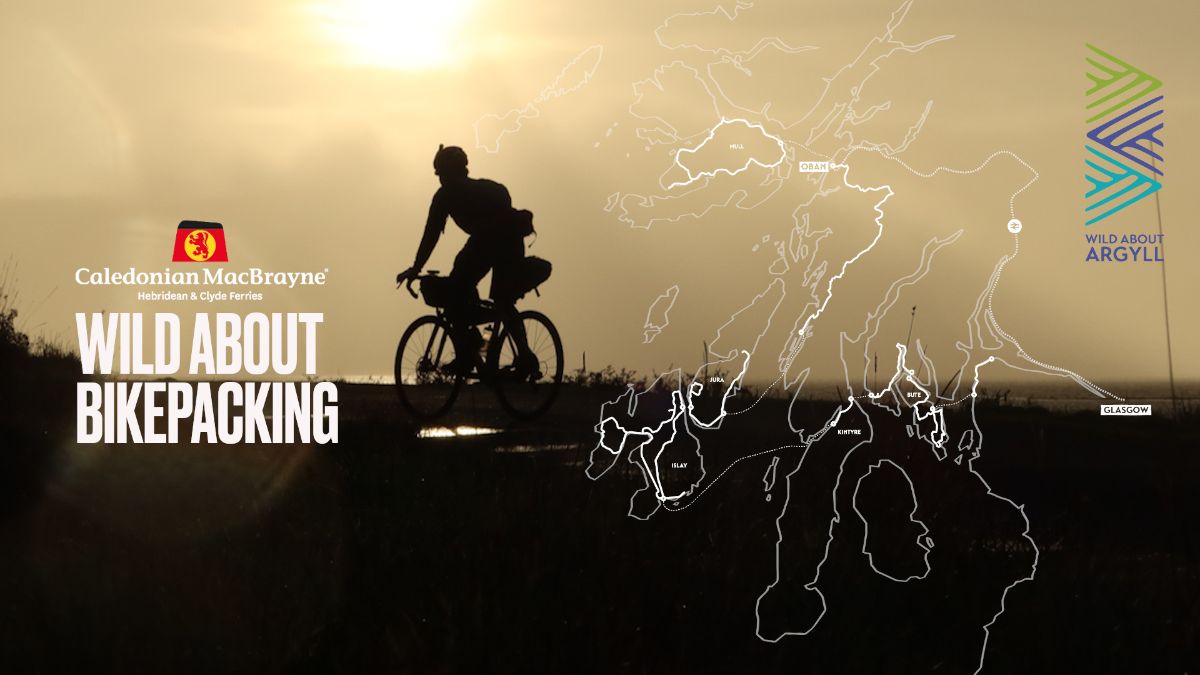 Wild About Bikepacking – A new film from Bikepacking Scotland launches a 496-km bikepacking route connecting the Argyll islands of Mull, Jura, Islay and Bute
Argyll's islands, the Inner Hebrides and Bute, offer fantastic bikepacking filled with beautiful beaches, some of the world's best distilleries, great gravel tracks and local food experiences.







The new Bikepacking Argyll's Islands route, created by Bikepacking Scotland and commissioned by CalMac Ferries and Wild About Argyll, maps a 496km-journey (308 miles) connecting the Isles of Mull, Jura, Islay and Bute on a mixture of gravel tracks, singletrail, cycle paths and roads. The route also makes great use of ScotRail's Highland Explorer, which provides space for up to 20 bikes, including tandems. The newly introduced train carriage offers a bike-friendly train connection between Glasgow, host city of the UCI Cycling World Championships in 2023, and Oban, where the new route begins. Bikes travel free on trains and all ferries along the route.
For new bikepackers and gravel cyclists Bikepacking Argyll's Islands offers a wide range of accommodation and incentives to stop. Experienced cyclists will find plenty of opportunities to extend the route or combine it with other established trails.
'Wild About Bikepacking' is the third short film from Markus Stitz that is set in Argyll, self-filmed in October 2021 when he travelled on a Twmpa Cycles GR 1.0, a bike built around a unique wooden frame. The route Markus cycled also includes part of his journey around the world on a singlespeed bike in 2015/2016.
Markus comments: 'When I arrived from my 34,000km-trip around the world with a small boat in Port Ellen, I instantly fell in love with Islay. I returned a few times since, and was delighted when I had the opportunity to work with Wild About Argyll and CalMac Ferries to map a new bikepacking route across the lesser frequented islands in Argyll. It complements the existing Wild About Argyll Trail, which has been enjoyed by many cyclists since its launch in January 2018.'
Stitz continues: 'For me, boarding a ferry to an island is the perfect start to a bikepacking adventure, and this route includes some of the most scenic ferry journeys in Scotland. Different from other routes I mapped, this one features quite a few road sections. Most of them are really quiet and enjoyable, like the Long Road on Jura. A gravel bike is the perfect bike to cycle the Bikepacking Argyll's Islands route. What I really like about it is the combination of great cycling, culinary offers and accommodation. And there are plenty of opportunities to unearth Scotland's history in places like Kilmartin Glen, which has the most important concentration of Neolithic and Bronze Age remains in mainland Scotland.'
The route adds to Wild About Argyll's 'Pedaddling' offer. The region, dubbed as Scotland's Adventure Coast, offers multiple opportunities for watersports with 3750km (2330 miles) of coastline, 23 inhabited islands and 40 lochs, which are complemented by long distance cycling routes like the Wild About Argyll Trail and Caledonia Way and a network of shorter Rail & Trail routes.
'Wild About Bikepacking' is available to watch for free on YouTube. The Bikepacking Argyll's Islands route, divided into eight day itineraries, can be navigated by downloading the GPX-files for free on the Bikepacking Scotland website at www.bikepackingscotland.com/argyllislands. More information about Wild About Argyll can be found at www.wildaboutargyll.co.uk.
For further information about the film and route please contact Markus Stitz at markus.stitz@gmail.com or +44 (0) 789 525 0508.
Markus Stitz
Markus develops bikepacking and gravel routes and has a proven track record in bikepacking races. He cycled around the world on a singlespeed bike and specialises in documenting races and his own adventures by bike. He is the co-author of 'Big Rides: Great Britain & Ireland' and author of 'Great British Gravel Rides', which will be launched in July 2022 by Vertebrate Publishing. www.markusstitz.com
Markus was riding a Twmpa Cycles GR 1.0 with Schwalbe G-One Bite tyres, Apidura bags and Exposure lights. www.twmpacycles.co.uk
Wild About Argyll
Argyll and the Isles Tourism Co-operative Ltd (AITC) is the strategic Destination Management Organisation for Argyll & The Isles on the West Coast of Scotland. AITC was formed in 2012 as a co-operative, with its membership being the local marketing, sectoral groups and individual businesses – representing in the region of 1,200 business interests. AITC is supported by VisitScotland, Argyll and Bute Council, Highlands and Islands Enterprise, NatureScot, Forestry and Land Scotland, CalMac Ferries, ScotRail and West Coast Motors. AITC works at a local and national level promoting Argyll & the Isles as a must visit destination. www.wildaboutargyll.co.uk
CalMac Ferries
CalMac is the UK's largest ferry operator, running 29 routes to over 50 destinations, across 200 miles of Scotland's west coast. Our fleet of 33 vessels complete  approximately 136,000 sailings a year with crossings ranging from 5 minutes to 7 hours. CalMac provides an everyday lifeline service to west coast communities, and for tourism, we play a critical role in enabling its development, which is hugely important for the area's economy. www.calmac.co.uk
Key Information for 'Bikepacking Argyll's Islands'
Cycling distance: 496km (308 miles)
Ascent: 5,100m
Terrain: 18% tracks and paths, 1% singletrail, 5% cycle paths and 76% roads
Difficulty: The route doesn't include unrideable hike-a-bike sections, but might require pushing the bike at more technical uphill and downhill sections. The route contains gates which, if closed, might require lifting the bike over the gate.
Best time to visit
The route can be ridden all year round. The best time to visit is from April to October. Some sections can be muddy or boggy in wet weather conditions.
Highlights
The scenic coastal road along Loch Na Keal and MacCulloch's Fossil Tree on Mull
Tall trees at Dalavich on Loch Awe
Gravel tracks on Jura's rugged west coast
Islay's distilleries and Finlaggan historic site
The charming village of Tighnabruaich and Argyll's Secret Coast
Mount Stuart and the Canada Hill Serpentine Road on Bute
Important links
www.bikepackingscotland.com/argyllislands  
www.wildaboutargyll.co.uk 
www.calmac.co.uk
Scottish Outdoor Access Code
Scotland's outdoors provides great opportunities for open-air recreation and education, with great benefits for people's enjoyment, and their health and well-being. The Land Reform (Scotland) Act 2003 ensures everyone has statutory access rights to most of Scotland's outdoors, if these rights are exercised responsibly, with respect for people's privacy, safety and livelihoods, and for Scotland's environment. Equally, land managers have to manage their land and water responsibly in relation to access rights.
The Code is based on three key principles:
Respect the interests of other people.
Care for the environment.
Take responsibility for your own actions.
For more information visit http://www.outdooraccess-scotland.com