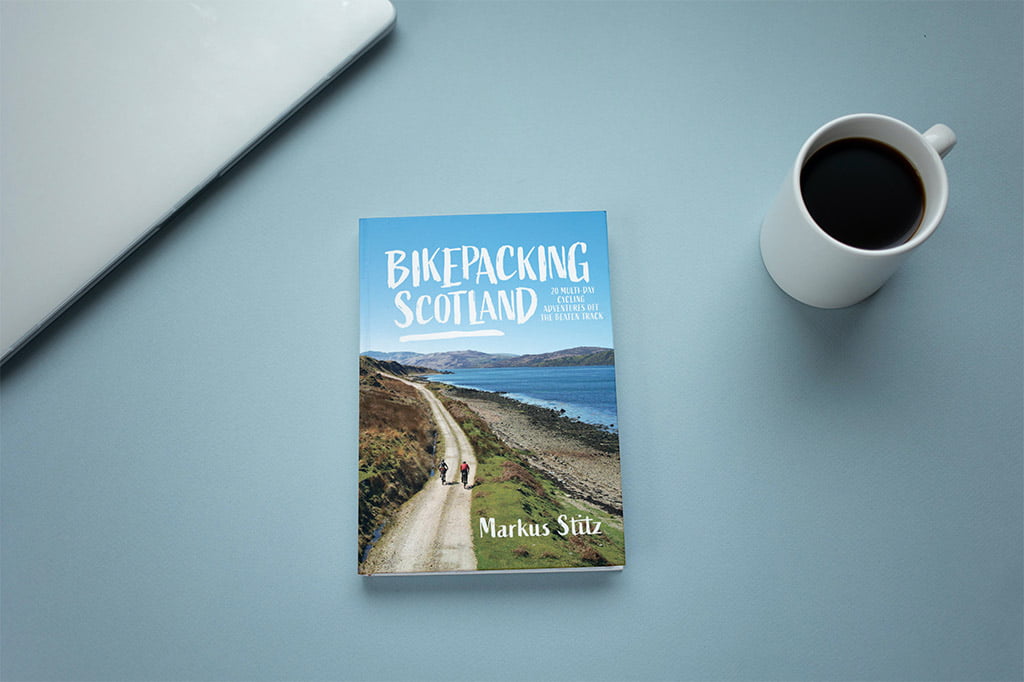 Bikepacking Scotland 20 multi-day cycling adventures off the beaten track by Markus Stitz
THE BOOK
Bikepacking Scotland by Markus Stitz features 20 great multi-day off-the-beaten-track cycling adventures across the Scottish mainland and islands.
The book features routes of different lengths which take in the best of the country, from the Ayrshire Alps, Dumfries and Galloway and the Borders in southern Scotland, through Perthshire's unique drovers' roads and the grand architecture of the Central Belt, across to Argyll's islands on ferry-hopping adventures around Islay, a paradise for whisky connoisseurs, and Jura and Mull to spot magnificent golden eagles. And, of course, the Scottish Highlands with an epic tour of the Cairngorms National Park, home to 25 per cent of Britain's rare and endangered species, as well as the author's own take on the North Coast 500 and more.
Researched and written by the founder of Bikepacking Scotland, and mostly accessible by public transport, each route includes all the information you need to help you plan your ride, with points of interest along the route, food recommendations and accommodation options, in addition to stunning photography and overview mapping. Downloadable GPX files of the routes are also available. Alongside further information on access, seasons and what to pack, and valuable insight from Scottish cycling personalities including Mark Beaumont and Jenny Graham, this book is full of practical tips and advice for both experienced bikepackers and those who want to try it out for the first time.
KEY SELLING POINTS
The author is a well-respected authority on bikepacking and adventure cycling in Scotland; his advice is trusted and valued.
Bikepacking is a popular and environmentally form of tourism, and this is the first Scottish guide on the market.
The book has been researched with public transport in mind. 14 of the routes are directly accessible by train or bus, 4 start and finish within 2km from a train station or bus station, only two require a longer cycle to either start or finish.
The book features routes of different lengths for beginners, intermediate riders and experts, in parts of Scotland that often don't feature in other guide books.
Published by the UK's number one cycling guidebook publisher and the 2022 Small Press of the Year, Vertebrate Publishing.To be published ahead of the UCI Cycling World Championships (the biggest ever), which will be held in Scotland in August 2023.
Publication 18 May 2023
Title: Bikepacking Scotland
Subtitle: 20 multi-day cycling adventures off the beaten track
Imprint: Vertebrate Publishing
ISBN: 9781839811937
Rights: World
Edition: First
Author: Markus Stitz
Classification (BIC) Cycling (WSQ); Travel & adventure holidays (WTH); Scotland (1DBKS)
Additional classification (Thema) Camping (SZR);
Travel guides: routes and ways (WTHW)
Size: 210mm x 148mm
Extent: 176 pages, full colour throughout with custom mapping Cover Paperback (flaps)
Retail price: £20
USE The code BIKEPACKING25 which will give you a 25% discount and here's the link: https://bit.ly/3NeRTic

PRAISE FOR GREAT BRITISH GRAVEL RIDES
'Each route has a really interesting description that gets into the rider's history, local history and the character of the trail. It's a guidebook that is also a good read.'
Singletrack
THE AUTHOR
Markus Stitz is a German-born route designer, filmmaker, photo- grapher and writer, based in Edinburgh. He caught the adventure bug while living in New Zealand and has explored Scotland extensively since he moved here in 2009. He founded Bikepacking Scotland (www.bikepackingscotland.com) and has worked in many corners of Scotland, designing bikepacking and gravel routes for Wild About Argyll, Visit East Lothian, the Cateran Ecomuseum, VisitCairngorms and others. Markus is an ultra-endurance racer, with three successful finishes of the Highland Trail 550, along with single finishes of the Silk Road Mountain Race and the Atlas Mountain Race. Markus's writing has appeared in a wide variety of magazines and online publications including Singletrack, Cycling UK, Cranked and Yellow Jersey. He is the author of Great British Gravel Rides. Bikepacking Scotland is his second solo book.
Retail price: £20
USE The code BIKEPACKING25 which will give you a 25% discount and here's the link: https://bit.ly/3NeRTic