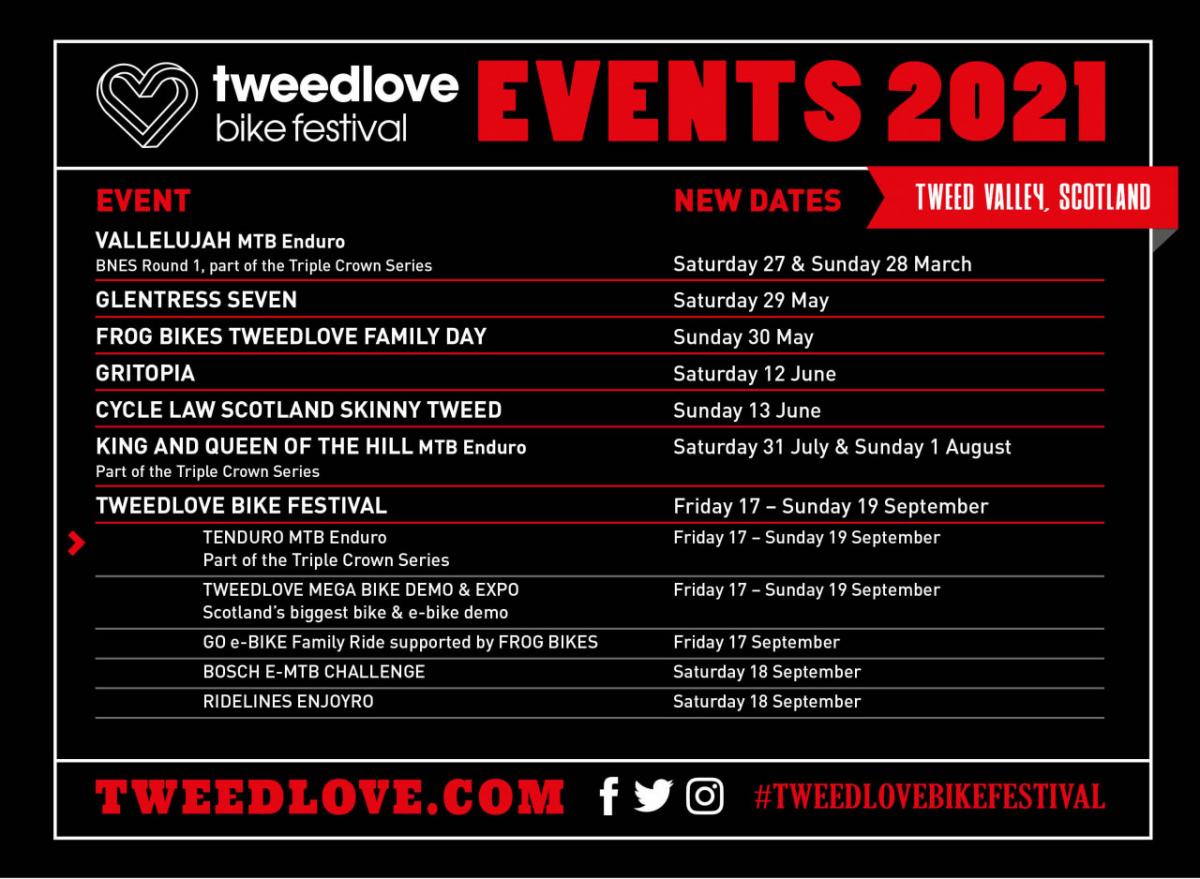 TWEEDLOVE 2020 IS OVER BEFORE IT BEGAN. BRING ON 2021.
To say we're gutted doesn't start to cover it, especially as we can see signs of 'normal' life appearing all around us, but we now have no choice and are cancelling our entire 2020 events programme. Instead, we've re-jigged the dates and will have a much happier and healthier time of it in 2021 instead.
2020 was meant to be our big party year, celebrating 10 years of TweedLove 'riding bikes and good times' here in what we proudly believe is the UK's best bike-riding destination – but a very unwelcome visitor has truly put an end to the fun. Yes we'll turn all the good stuff up to 11 next year, but meantime we need to show our hideous new cohabitant the door, and hopefully for a long time.
Some will ask the wisdom of shutting down our events just as restrictions are easing, but there are two important parts to the decision.
First, the factual stuff: We're waiting for further guidance (from the Scottish Government or others) on participant number restrictions, social distancing, regulation of toilets and catering, local authority permissions and rules, Forestry access and regulations, travel advice, accommodation-provider availability and so much more. We've not been able to properly advertise most of our events and of course, even people in a financially stable position are reluctant to commit to plans now – so it's unlikely attendance numbers would even cover our (increased) costs now.
Secondly, the common sense bit: Our events attract thousands of people to the Tweed Valley every year, from other parts of the UK and quite a few from abroad. While there could undoubtedly be commercial benefit for local businesses in going ahead, even with reduced numbers, as a team we believe it's still way too soon to encourage a large number of people to come here all at the same time. Our infection numbers in Scotland and the Borders are successfully going down, and we need to consolidate that shift – not risk reversing it. Telling people not to come here doesn't come easily, it's the exact opposite of what we've been doing for the last ten years, but let's get it right now so when we can all enjoy a safer time together as soon as possible.
The 'together' word is important for us. There's been a lot of talk of 'virtual events' and 'moving online' in the events industry recently, with leaders telling us we need to be clever and do more online to keep our businesses alive. While that may work in some situations, it's not what we're about, or why we started doing this all in the first place.
We believe events are about the magic stuff that happens when people are together – not on screens, but feeling things actually together in person, sharing live experiences with others at the same time and in the same place. Events are about emotions – the elations, the struggles, the fears, and all the special stuff you can only get by being part of something at an event with a big bunch of other human beings reacting alongside you. That's a big part of why we put on events, and why we want to get back to normal as soon as possible.
In the meantime, everyone who's entered one of our events for this year will receive an email about the cancellation, and we hope as many as possible will stick with us until next year. The events industry has been truly savaged by Covid, from organisers and ticket agents to timing companies and pizza vans, so please keep your event and race places for next year if you can – it will really make a difference over what's going to be a tough time from now until next Spring for many of us.
On a brighter note
If things change then maybe we can put together some 'Goodbye Covid, please close the door behind you' events later in the year. We'll have to wait and see, but the chance to be with friends, doing something we all love, safely, seems like something warm and fuzzy we can all look forward to. I expect we still have some work to do, together, in getting there.
TweedLove events are organised by Peebles-based events company Hillside Outside Ltd
Full details of new dates and refunds are available here. All 2021 events will be on general sale Friday 24 July 2020.
More info:
Harley Lothian
harley@hillsideoutside.com
07511109252