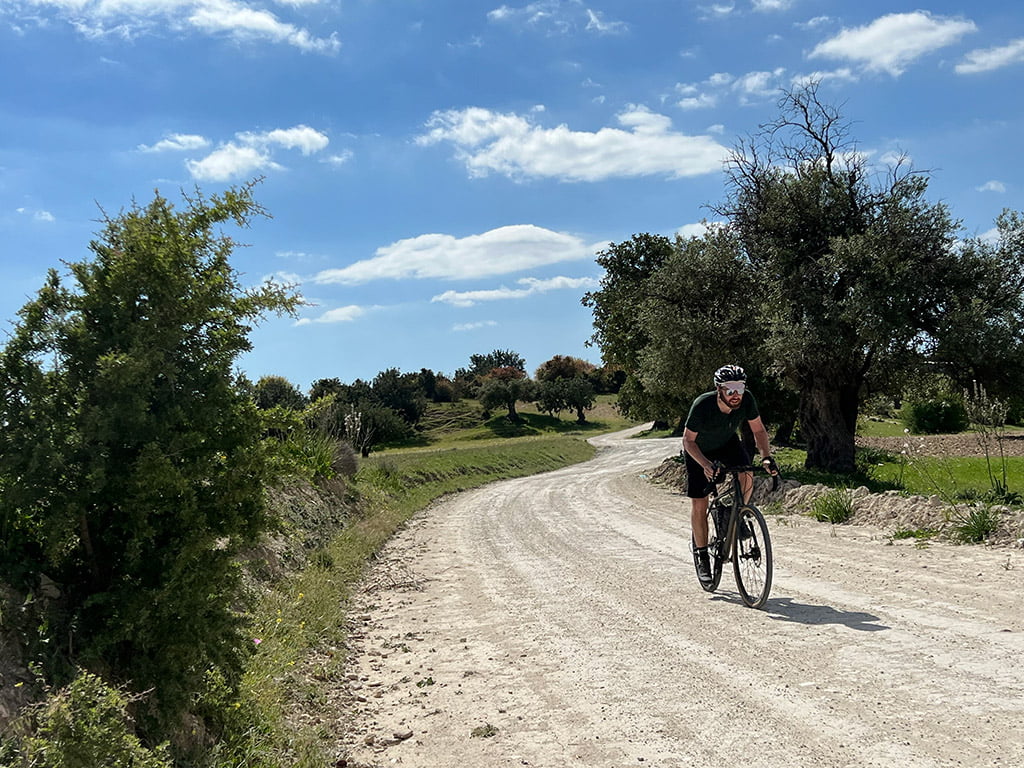 Enjoy endless sun-kissed gravel at the 2nd bedrock gravelfest in Cyprus
Experience the most undiscovered off-road adventure on the Island of Cyprus. Off the bike, relax with traditional Cypriot cuisine and culture!
The Bedrock GravelFest, April 9-15, 2023 is a week-long adventure both on and off the bike.
Cyprus is an undiscovered gravel wonderland just waiting for bold adventurous riders to be immersed in nature and get out of their comfort zone.
Activate Cyprus understand and appreciate what true gravel riding is about, they know the island intimately, and will leave you speechless with their vast knowledge of pedalling in remote, off-the-beaten-path pure gravel whilst enjoying the amazing scenery.
The expert guided rides include climbing the Troodos mountain range, onto the west side of the island where dense green forests meet the deep blue waters of the Mediterranean, highlighting the undiscovered beauty of Cyprus.
It's a blend of great rides and local gastronomy, wine making, cheese farms and orchards loaded with fresh fruits calling you to taste them.
Of course it goes without saying that no gravel adventure is complete without the after-party including; good specialty coffee, a rare brew, trying new food, talking bikes, pump tracks, music and barbeques.
This curated week of sublime gravel riding includes immersing yourself in the Cypriot way of living where simplicity is a virtue. Indulge in the most delicious traditional meals that the island has to offer.
Wake up for an early morning Yoga stretch, learn traditional local skills including pottery, Halloumi making & Basket Weaving and Koupepia and Hummus making. Dine in local taverns and at the local fishing village, enjoy a traditional Cypriot party and Meze dinner and wine tasting courtesy of Vasiliko Winery.
The week culminates with the fun 51 mile Bedrock Gravel Race and Awards Ceremony, Barbeque Party with Chef Avraamis, Beer Tasting by Π?βο Microbreweries.
Click here for the full 2023 itinerary.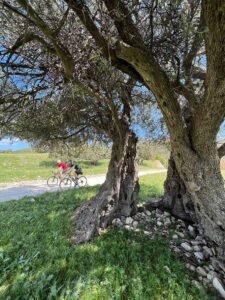 Cyprus has an average of 326 sunny days per year with a very mild winter and fantastic spring and autumn.
In April the weather in Cyprus is warm, with a temperature during daytime between 18 and 25C. The weather in April is perfect for cycling, sightseeing and sunbathing.
The 2,000m high Troodos Mountains encompasses beautiful forests and hundreds of kilometres of roads.
And best of all, unlike other Mediterranean destinations, Cyprus is still virtually undiscovered by gravel cyclists, the gravel roads are empty and waiting to be explored!
Accommodation Packages
The festival's HQ is in Tochni, a small, traditional village with about 350 inhabitants in a picturesque, quiet atmosphere, away from the crowds. The traditional stone-built houses that house participants are scattered throughout the village. Perfectly situated in an area with really dense network of gravel roads. It is also the heart of the Bedrock Gravelfest Cyprus.
Accommodation ranges from small studios to two-bedroom apartments, usually with a courtyard and a shared pool.
There are packages for both riders and non-riders which includes 7 nights' accommodation and breakfast and dinners included.
Non-cycling friends and family are welcome with a special sightseeing tour to the town of Limassol.
Click here for full details of the accommodation packages.
For detailed information, please visit: https://www.activatecyprus.com/gravelfest-cyprus