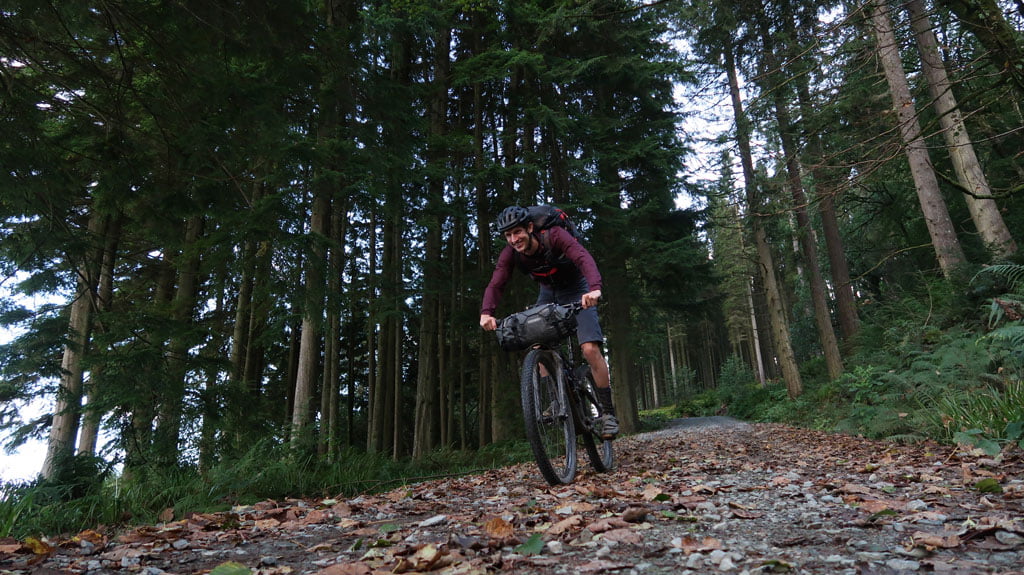 Leave the car behind, catch the ferry and have an adventure in Dunoon
Wild About Argyll has teamed up with Bikepacking Scotland and Calmac Ferries to promote a series of car-free walking and cycling adventures for various abilities, starting at Dunoon Pier and Benmore Botanic Gardens.
Dunoon is the jewel in the Firth of Clyde, very close to Scotland's biggest city Glasgow. Situated on the Cowal Peninsula, the seaside resort is a gateway to the great outdoors, with an abundance of walking and cycling adventures accessible easily by public transport from the ferry pier.
Local businesses are embracing the opportunities the great outdoors offer, like Jon Smith from the St Ives Guesthouse explains:
'Ìf you love the great outdoors, if you love friendly people, this is a place to come. We have got everything: Forests, mountain bike trails, boating, fishing, botanical gardens; nature at its finest.'
The Rail and Sail Ticket, a joint offer from CalMac Ferries and ScotRail, makes travelling on public transport simple and encourages people to leave their car at home. With a combined ticket for train and ferry travel, which can be bought at staffed stations, online or on the train, it is the perfect opportunity for a spontaneous escape to Scotland's Adventure Coast and the opportunity to get #wildaboutargyll without a car.
Jenny Tough, an Edinburgh-based adventure traveller and endurance challenger, who has recently taken part in the Dunoon Dirt Dash, is excited about the potential of Rail and Sail:
'I am very passionate about human-powered endurance challenges and encouraging others to explore this beautiful planet. At the same time I feel strongly about protecting our wild places. Offering people good alternatives to ditch the car and spontaneously have an adventure to explore their own limits is a great idea.'
Steve Bate MBE, adventurer and double Paralympic Champion, has been to Argyll twice in a year and loves the opportunities Dunoon offers for cycling:
'Argyll is a fantastic part of Scotland to be explored. I have enjoyed cycling the Dunoon Dirt Dash recently after finishing this year's road race season, which allows me a week or two of downtime. I love going on adventures when most pro riders put their bikes down. It's great to encourage people to have an adventure close or far away from home. Dunoon's setting and the easy access by ferry and train makes it even more tempting to return soon.'
The campaign features a short film showcasing the area and the opportunities Dunoon offers. Joanne Craven, an Edinburgh-based game designer, enjoyed working with FoSho Video from Glasgow on the film to promote the Rail and Sail offering:
'The best thing about Dunoon is the ferry. Because even though you're not going very far, it's actually very easy. You feel like you've properly gone on holiday.' 
After a short or long day in the outdoors, Dunoon has plenty on offer to relax and great choices to stay overnight. A stroll down the promenade and the Victorian pier is highly recommended, or a visit to the historic Castle Mound and the museum. Browsing the local shops and galleries can be great fun, and local cafes and restaurants offer plenty of opportunities for lunch and dinner.
Six walking and cycling adventures are currently featured on the Wild About Argyll website. They include a walk through Puck's Glen, a walk from Dunoon to Bishop's Glen reservoir and a walk up Beinn Mhor. The cycling routes include the Dunoon Dirt Dash bikepacking route, a road bike loop around the Cowal Peninsula and a mountain bike ride around Loch Eck.
More information about the walking and cycling routes and the GPX files to download can be found at www.wildaboutargyll.com/railandsail. More information about Dunoon can also be found at www.dunoonpresents.com. More details about the Rail and Sail tickets, also available to Arran, Bute, Cumbrae and Mull can be found at calmac.co.uk/railandsail.